Carlos Dunlap:
40 Yard Dash: 4.66
Bench Reps: 21
Height: 6'5''
Weight: 279 Lbs.
ProFootballTalk.com

The Cincinnati Bengals selected Florida defensive end Carlos Dunlap in the second round of the 2010 NFL draft despite Dunlap's drunk driving arrest in December, an arrest that Bengals coach Marvin Lewis says was simply a one-time mistake.

"That was thoroughly investigated," Lewis said, per Bengals.com. "Obviously it was not a good time to have a DUI arrest [before the SEC Championship Game] -- there's never a good time to have a DUI arrest -- but particularly this one."

Lewis says the team's research indicated that Dunlap hadn't been in any other off-field trouble, and he answered affirmatively when asked whether the arrest was the only knock on Dunlap.

"Yeah," Lewis said. "But a lot of guys have been going off the board today with knocks."

For his part, Dunlap vows that it won't happen again.

"That was the only incident I've ever had on my record," Dunlap said. "I never had anything before that, and I won't ever have any more. I feel like I learned from it, and I'm ready to move forward and turn that negative into a positive."
FoxSports.com

Dunlap is likely a first-round pick because of his tremendous size and athleticism. He knows how to use his size well and carries the weight effectively, using it to overpower opponents. Dunlap is considered one of the most physically dominating ends in the draft and he exhibits a lot of potential. While his size and arm strength are some his greatest assets, they haven't kept Dunlap from showing great lateral quickness or staying balanced when offensive linemen try to push him off. He's able to quickly get to the quarterback from the interior and is extremely effective as a pass rusher. He doesn't easily get knocked off his path. There is some concern after Dunlap was arrested for drunk driving late in the 2009 season, but he has already settled that issue, receiving one year probation while exhibiting proper embarrassment. A more pressing question is Dunlap's lack of experience. With only two years as a starter at Florida, scouts worry that Dunlap's strong stats in 2009 might not translate to the NFL. Dunlap finished his three-year career with 84 tackles, including 25 for loss over the last two years. He also had 19 1/2 sacks and two forced fumbles in three years. His tackling technique could use some refining, as he often tries to drag opposing linemen down, but that's something that could be addressed in training camp. Other issues are that he can be slow to react and there are questions about his consistency. Still, Dunlap will be highly sought after in April.
MockingTheDraft.com

Pass Rush/Closing Ability/Moves and Counter Moves: Totaled 19 sacks over the past two seasons. Can get the quarterback from every angle, best used as an interior rusher on passing downs. Uses a nice spin move to the inside gap while maintaining balance and power. When his leverage is right, Dunlap can use a variety of moves to get past a blocker and in to the passer's face very quickly. Strong bull rusher that can collapse a pocket.

Pursuit/Lateral Movement/Agility: Very agile for a player his size. Can stay on his feet and keep his balance when moving east/west. Can close a gap in the open field fast with his long strides, makes a lot of tackles/sacks from behind.

Quickness/Explosion: Slow off the ball, late reaction. Often the last defensive lineman to move post-snap. Does not shoot out of a cannon, instead gets out of his stance too high which slows him down even more at the point of attack.

Run Defend/Recognition: 25 tackles for loss over the past two years. Very strong at the point of attack and can toss away a blocker with ease when his technique is right. Uses his length well to play with a lot of range within the tackle box. Slow to react, can be set up easily by a counter.

Size/Length/Hand Size: Has ideal size for the left defensive end position in a 3-4. Has a strong 290 pound frame with minimal loose weight. Very long arms that create a lot of separation between him and the blocker when his technique is on point.

Strength/Ability to Shed Blocks: Shows flashes of dominating the point of attack where no blocker can stick with him. His functional strength turns on and off. Will struggle to get off a block when reushing the edge. If he doesn't get the initial position advantage against a blocker, he takes way too long to get off a block.

Tackling: Does not get in on a lot of action over the course of a game. Can chase a ball carrier from behind, but he does not show proper technique when tackling. Does not explode through the ball carrier, simply tries to drag him down.

Technique/Hand Use/Leverage: Inconsistent technique from top to bottom. Stands out of his stance more often than not and at his height, he makes for an easy target for a blocker to lock on to. When his technique is on however, he becomes nearly unblockable.

Versatility: Has seen plenty of time inside and outside, left and right. Was moved all over the place at Florida, creates mismatches and absorbed double teams across the line. His best performances have come from the inside as a pass rushing defensive tackle.

Final Word: Dunlap is the kind of player that will be drafted higher than what his production would lead one to believe. The physical tool set that he brings to the table is as good as it gets and any defensive line coach that is confident in their ability to get the most out of a player will drool over Dunlap's potential. Dunlap has shown flashes of being unblockable, but those kinds of performances were too few and far between, as his lack of consistency was maddening to watch. There are motivational issues with him as his level of effort given on each play is up and down. Because of the physical package he brings to the table and the flashes of strong performance, Dunlap could break his way in to the top 10 because of the ceiling he possesses. However the underachiever label that has been placed on his name will scare some away because of the contracts that will be required that high in the draft.
Jordan Shilpey: (most of you who are regulars on CincyJungle know I wanted him or Mardy)
40 yard dash: 4.57
Bench Reps: 16
Height: 6'0''
Weight: 190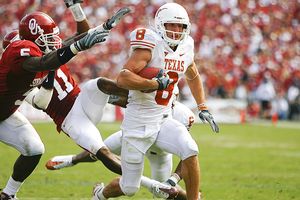 Cincinnati.com

With its first third round pick, the Bengals took Texas WR Jordan Shipley with the 84th overall pick.

 

Shipley, who was the favorite target of Colt McCoy, had 116 receptions for 1,485 yards and 13 touchdowns last year as Texas went to the BCS Championship Game. He can line up in multiple spots and has the toughness to make catches over the middle despite being only 5-11 and 193 pounds.

He has some underrated quickness but the ability to find holes in zones and gain yards after the catch.

The Bengals opted to take Shipley over UC's Mardy Gilyard, who was still on the board. Right after Shipley was selected, the Browns took McCoy, who slipped to the 85th overall pick.
MockingTheDraft.com

Acceleration/Burst/Quickness: Reaches his top speed with just a few strides. Has elite initial explosion as he finds the crease and bursts through it. Very hard to cover underneath because of the quickness in change of direction.

Agility/Leaping Ability: Makes defenders miss in tight spaces. Flexible and balanced hips can get him to change direction with ease. Doesn't win a lot of jump ball competitions. Won't out-leap bigger defensive backs.

Blocking: Competitive blocker that uses strong hands to lock on top smaller defensive backs. Always hustling towards the ball in hope of throwing the downfield block.

Body Control/Body Adjustment: Well balanced when running routes and with the ball in his hands. Does not reach back away from his momentum well on a poorly thrown ball. Can look stiff at times when the ball is not out in front of him.

Concentration/Hands: May have the strongest pair of hands in comparison to all the receivers in this class. Ball just sticks to them with very little wiggle when contact is made. Makes the tough catches over the middle. Has no issues putting his body on the line.

Release: Has the quick first two steps to avoid the strong punches in press coverage. Strong arms and hands can throw a corner off balance and get him that initial separation.

Route Running: Ran a complex route tree at Texas. Runs the downfield double routes as good as anyone. Makes the cuts and breaks at full speed without rounding his route.

Separation: Can get away from a defender with ease in the underneath and intermediate passing game. Remains balanced throughout his breaks which gives him the advantage over the defender. Does not have the elite speed to gain and maintain separation deep.

Size/Length/Hand Size: Has average to below average height and length for an NFL wide receiver. Has enough bulk to outmuscle defensive backs however. Hands are big and strong.

Speed: Appears to be faster than he really is because of his rapid acceleration. Has run away from some fast defensive backs over the past two years. Hard to catch in the open field, may be one of those players that runs faster than a 40 time.

Vision/Run After the Catch: Very savvy with the ball in his hands. Can find the smallest of creases and burst through them. Has plenty of experience as a return specialist. 3 touchdowns as a punt returner over the past two seasons.

Final Word: Shipley is the kind of receiver that is NFL ready and will contribute right away if given the opportunity. What he lacks in talent and measurables is made up for in his ability to run crisp routes and consistently catch the football. He will be a weapon on third downs because he is incredibly difficult to cover underneath a la Wes Welker. He will never be the number one guy but he is the perfect complement to a strong passing attack. He has a good head on his shoulders and he is a guy that works hard on all of the little things to make him a strong receiver. He should be off the board in the second round but there is a chance he breaks in to the late first like Anthony Gonzalez did in 2007.
 Brandon Ghee CB wake Forest:
40 yard Dash: 4.45
Bench Reps: 15
Height: 6'0''
Weight: 190 Lbs.
Cincinnati.com

With their second pick in the third round, the Bengals took Wake Forest corner Brandon Ghee. One profile from CBS Sports –

The athletically gifted Ghee has been impressive in high profile matchups with big receivers, but struggled against smaller, quicker wideouts. More interested in applying the big hit than the interception, some scouts feel his pro best position will be safety. There is merit there, considering his production as a tackler (154 tackles, 12.5 tackles for loss) and lack of big plays generated when in coverage (one interception out of 26 passes defensed).
MockingTheDraft.com

Agility/Hips: Ghee's hips are incredibly fluid and he can turn in an instant. He'll lose a step, though, because he's so high cut. His feet aren't as quick as his hips and he loses a step.

Ball Skills: Hands are poor. Only registered on interception during his career. Ghee did manage to break up 25 passes during his career and is more of a knock away defender.

Instincts: Shows much better recognition skills in zone coverage than in man coverage. In zone he does a really nice job of reading the quarterback. In man, though, he gets beaten too often by double moves and fakes.

Man coverage: Against bigger receivers, Ghee shows a lot of toughness. He actually matches up much better against bigger receiver that are slow than smaller quick receivers. Has long arms that he extends all the way to am at the line.

Pursuit: Ghee's recovery speed is very good. In the times he gets beat by shifty receivers, he can make up for it with his speed. Has a good burst to close.

Size: Has solid size for the position and is just under six feet tall. Has good bulk with long arms.

Speed: Has good speed and burst. Clocked in officially with a 4.45 40-yard dash time at the combine. Will struggle to get up to speed quickly when he has to change direction.

Tackling/Run Support: Shows average tackling ability for a cornerback. Needs to become more fundamentally sound as a tackler. Likes to be an aggressive hitter. Willing and able to help in run coverage.

Zone coverage: Ghee can get too tall in his backpedal which hurts his turning ability. Likes to give up a big cushion so he can break on the ball. This will often get him in trouble when a receiver works underneath. But Ghee can read a quarterback nicely and against less-athletic receivers he's very good in zone.

Final word: Ghee was a three-year starter for Wake Forest and at times looks like a very good cornerback. But at other times he looks more like a safety. It's this kind of inconsistency that drops Ghee's stock some.
Bleacher Report

He isn't the most athletically-gifted corner to enter this year's draft, but the upside of the former Demon Deacon is what will make him attractive to prospective ball clubs. He will likely be a better NFL player than he was at the collegiate level.

Faster than quick, Ghee has trouble in certain man coverage scenarios. He has excellent straight-line speed to keep up with receivers on the sidelines but struggles at times to keep up with routes that turn in or out sharply.

Ghee's long limbs are a blessing and a hindrance. His long legs don't allow him to properly mirror the smaller, quicker wideouts but his long arms allow him to stay off the ball in zone coverage and reach in at the last minute to cut off the ball.

In zone coverage, Ghee has the awareness to keep a close eye on the underneath routes and keep a blind eye on the cushion behind him. His backpedal is quick, but his size keeps him too high and no amount of hip movement will make up for the speed of NFL receivers.

He has a tendency to go for the big hit rather than make the play midair. His willingness to put a shoulder into the runner makes him a more attractive safety than a cover corner at the next level, but his awareness and high football IQ keeps his versatility intact. 

As a tackler, Ghee looks the part of the hard-hitting NFL safety, cutting through weak receiver blocks and contributing to keeping the opposing backfield in check. His hands are a little suspect at times, but his natural athleticism allows him to break up the play when he needs to.

Ghee provides run support better than any other corner in this year's class. He is aggressive at the line and unafraid to take a rough block. He knows how to use his hands in open field and does well to jar unprotected balls loose.

It's Ghee's confidence that will set him apart from the rest of the corners in his class. Despite never having been named to an all-conference team in three years as a starter, the cornerback believes he has the ability to be competitive in the NFL.

After fellow Wake Forest defender Alphonso Smith left for the NFL, Ghee was allowed to truly showcase his abilities and amassed decent numbers in a run-heavy conference. 

There is concern over a nagging ankle injury that kept Ghee off the field for a while in '09, but his level of comfort in man and zone coverage as well as his versatility in the backfield will make him an attractive prospect come April. 

Look for a team like Detroit to utilize an early to mid-round pick to get Ghee and bolster up their defensive backfield. With more than a few starting defenders possibly departing through free agency, the Lions will need Ghee's youthful athleticism to keep their defensive squad competitive in the NFC North. 
40 Yard Dash: 4.76
Bench Reps: 20
Height: 6'6''
Weight: 261 Lbs.
Cincinnati.com

Friday was a rough start to Jermaine Gresham's day. He drove from Norman, Okla., to Oklahoma City early in the morning only to see his flight to Cincinnati canceled due to weather.

But after getting his flight rescheduled, Gresham finally arrived at Paul Brown Stadium late Friday afternoon and met with team VIPs and the media.

The delay was a minor hindrance considering that the Oklahoma tight end missed last season due to a knee injury and the Bengals struggled mightily at the position last year.

Gresham's Friday travails were different from his draft night. Instead of watching the first round with family and friends, he decided to watch the proceedings alone at his apartment.

"I didn't want to put my family through that, through the stress of where you can go, where you can't go, up and down. I don't want to put them through that, so I just watched it by myself," Gresham said. "I was happy it was finally here, but when it started going, it was nerve-racking."

While Gresham is the early favorite to win the starting spot, he is not going to let the immediate expectations get to him.

"I'm OK with that. I just have to be me. I just have to put the pads on and show them what I can do," Gresham said. "I'm a little piece of this puzzle because they were already great last year. And hopefully I can just come in and help."

Gresham said he has not spoken to quarterback Carson Palmer yet, but is excited about teaming up with him, which should start as soon as OTAs on May 11.

There are no doubts about what Gresham can do as a receiver -- he had 111 receptions for 1,629 yards and 26 touchdowns at Oklahoma – there remain some questions about whether he can be a consistent blocker.

When asked how to rate himself as a blocker, Gresham said: "My effort is there, but I'm a poor technician. I need to work on my technique — keep my head up, stop being so rounded, do the little things, and I'll be good."

For those who were wondering what the selection of Gresham means for Chase Coffman, even Gresham likes the potential that exists with the two of them in two tight end sets and the matchup problems that exist.

"We can run. We can block. However you want it, we're going to give it to you," Gresham said. "It feels good. I know the type of player he is. I played against him for three years, and he's a great competitor. I've seen him go out there and make some amazing catches."

NUGENT SIGNS: There will officially be a kicking competition in training camp after the Bengals signed former Ohio State standout Mike Nugent on Friday.

Nugent, who signed a two-year deal, worked out for the Bengals on Feb. 12 but after the workout the team decided to sign Dave Rayner. The two sides remained in contact throughout the past two months with a deal reached today.

The signing also means that the odds of the Bengals looking to re-sign Shayne Graham became extremely small.

Nugent, a Centerville native, was drafted in the second round by the Jets in 2005 and played there for four seasons. He played six games for Tampa Bay and Arizona last year, going 14 of 14 on extra points but 4 of 8 on field goals.

His NFL career totals are 79 of 100 on field goals and 97 of 99 on extra points