As I was pondering the very perplexing Jerome Simpson, I began looking at various images of him throughout the years and attempted to piece together what was being said to help me understand him better.  Unfortunately, I don't read lips, but am somewhat adept to reading between the lines.  Here is what I have come up with after serious contemplation and analysis.  I'd be interested in your interpretations.
"It says 'Wilson' on this ball. Who's Wilson?"
Terrell Suggs:  "I told you I'd get you your money."
"Where did I put my keys?  I can't remember!"
"My key to not fumbling is pretending the football is a bag of weed."
"I could sure use some Funyuns right now."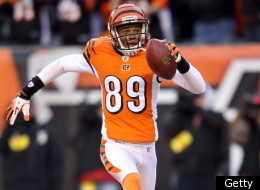 "Where am I?  Why is the endzone running away from me?"
"No one gets higher than me!"
Anthony Collins: "We know, Jerome...."
"I just scored 5 pounds of weed last night!"
Carson:  "What did you say?"
"I don't know what Jerome put in those pregame brownies, but it definitely put me in a better mood!"
"I like those brownies too.  Okay, Jerome.  You can play..."
"I stay ahead of the DEA by conducting transactions where they least expect.  Plus, the cops can't touch me on the field!"
"Swing by my place later!"
"I promise the fans I will be at a higher level than ever before."
*Author's note:  I realize of course Jerome Simpson hasn't been convicted of anything, so he is innocent until proven guilty.  These are only playful thoughts from my sick mind, stemming from the unfortunate 8.5 pounds of weed and distribution equipment discovered in his place of residence.  My opinion of Jerome will always be high.  No pun intended....