They don't have a "Ring of Honor" for their past greats on the field and they aren't in the habit of retiring players' numbers at halftime. But, by golly, the Bengals know how to take care of their faithful staff members. During this week's OTAs, Mike Brown and the Bengals coaching staff honored longtime Director of Football Operations, Jim Lippincott.
During the downtime at the session, Marvin Lewis presented a framed Bengals jersey with the No.20 (symbolism for the amount of years of service) to Lippincott with Brown watching in the background.
Former #Bengals Director of Football Operations Jim Lippincott was presented a framed jersey today by Coach Lewis: http://t.co/Xefk5HcQtd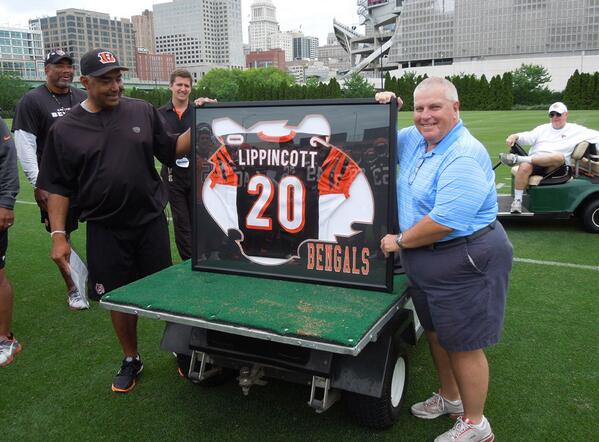 Lippincott is now with Moeller High School assisting their football program, but has close emotional ties to the club since his departure. Since Lippincott's departure, Duke Tobin has been stepping to the forefront and has been given internal kudos by the Bengals staff for his efforts in the draft. Tobin holds the title of Director of Player Personnel.
The former Bengals staff member lives in infamy from his stint in 'Hard Knocks" from the 2009 Traning Camp documentary. He had the dubious designation as the guy who had to break bad news about releasing a player. The most eye-popping moment was when Lippincott barged into a room to let fullback J.D. Runnels know that he had been placed on waivers prior to 5AM and basically booted him out of his dorm room. His explanation to Runnels? "It's an ability thing. We only cut players around here because of ability". Yikes.
He did redeem himself a bit in the second episode by letting down running back Marlon Lucky a bit more softly than he did with Runnels, though it was still in front of other players as the piled into the facility. Regardless, Lippincott did provide years of loyal service to the Brown family and they honored him for it.