Speaking of loud mouth personalities (a topic briefly touched on Wednesday), Warren Sapp said "I don't see what Carson Palmer has done in this league that has everyone so enamored." A good analyst, will tell you why Palmer hasn't done enough to be enamored in the league. A good analyst will tell you why Palmer should be enamored. Either way, a good analyst will do a better job analyzing than sitting at a chair acting like a child sitting in the back of the classroom that even the teacher thinks to themselves, "You dumb mother...."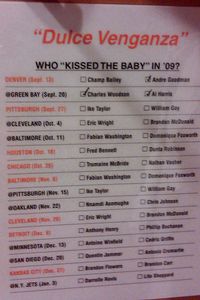 Chad Ochocinco has a spanish-theme touchdown celebration planned this Sunday. Speaking of that. James Walker provides a picture of this year's checklist. Walker also featured a piece on Antwan Odom.
Paul Daugherty writes that the Bengals "need to bully" the Steelers. However Daugherty predicts that the Steelers will beat the Bengals 20-17.
The Steelers are concerned about the Bengals.
The Steelers didn't face Palmer, who missed most of last season with an elbow injury, in 2008. Unfortunately for them, he fits the profile of the quarterbacks who have had success against the Steelers through the first two weeks of the season.

Like Kerry Collins and Jay Cutler, Palmer has a big-time arm, the size to stand tall and absorb hits in the pocket and a track record of success in the NFL.
The Bengals defense knows that they have to pound on Ben Roethlisberger on Sunday.
"You have to hang on and try to drag him down as much as you can," Odom said. "You have to get him on the ground, hit him as much as you can, wrap him up and hold on. Hold your will on him and make him fall."
While Keith Rivers is trying to move on after the hit by Hines Ward that ended his rookie season, Ward is adamant that he'd do it again.
"I'll still hit him. I'll just get fined," Ward said. "I'd rather take a fine than try to end somebody's career, so I'm not going to change. Me being the defensive guy, I'd rather get hit high than low. Because if I hit Rivers I probably would have blown out his knee and he never would have played football again."
Quan Cosby is "second in the AFC in average yards per punt return."
John Kiesewetter writes that 51% of "all available TV homes locally" watched the Bengals beat the Green Bay Packers. Kiesewetter continues that it was "the highest rated Bengals telecast since a Dec. 30, 2007, victory over Miami that had a 31.1 rating and 56 percent audience share."
Chris Steuber ranks Rey Maualuga 12th in his his 2009 NFL Rookie Rankings. While Maualuga is trying to start a new tradition, he's starting to fit that mold of AFC North linebacker.
Vic Carucci was impressed that the Bengals were able to put forget about the Denver loss, go to Green Bay and beat the Packers.
Hall of Fame quarterbacks John Elway, Dan Mario and Joe Namath talked about today's quarterbacks.