In the NFL, one of the easiest ways to have an explosive offense is to find easy ways to get the ball in your playmakers' hands in space.
Just ask the Dolphins how fun defending Giovani Bernard in space is?
Or the Vikings.
The screen is an effective way to get the ball into the hands of guys like Gio, AJ Green and Marvin Jones, and they've all shown the ability to make multiple guys miss in space.
That said, it was one aspect of Andy Dalton, and the Bengals' offense overall, that wasn't as effective as it should have been last year.
Pro Football Focus did a study of how efficient every QB was in the screen game. Dalton was among the worst when it came to receiver/tight end screens.
Dalton's -1.5 grade on screens to wide receivers or tight ends was the second-worst rating in the league behind only Geno Smith.
Is that on the fault of Dalton, or Jay Gruden's insistence on force-feeding Green the ball?
Dalton can't do anything there, and neither can Green really. Defenses learned to attack Green hard anytime he didn't step forward at the initial snap, as it was a dead giveaway he was getting a quick-screen thrown to him.
Jones however, was a little more efficient when he had quick screens thrown to him, as defenses were expecting it less.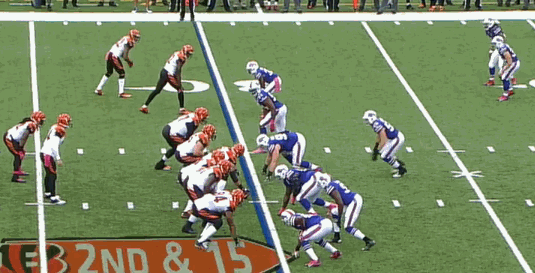 When ti comes to running back screens, it's a much different story with this offense.
Dalton was the eighth-most efficient throwing to mostly Gio when it came to RB screens. BenJarvus Green-Ellis was non-existent when it came to screens. With the addition of Jeremy Hill to give the Bengals another capable pass-catcher in the backfield, that should only improve this year.
In all, new offensive coordinator Hue Jackson needs to find ways to make the WR/TE screen game more efficient, which probably means spreading it out more to Jones, Tyler Eifert, Jermaine Gresham and even Mohamed Sanu.
Screens to Gresham on the outside will make any defensive back shiver
Gresham had a mere 16 passes thrown to him between 0-9 yards on the outside numbers (screen range). Sanu had just 21, Eifert had 18, Jones had 27 and Green had 43.
Get the ball in some of those other guys' hands more.