Over the past two weeks all the talk around the NFL has been regarding the Draft. The questions we received for our mailbag this week not only centered around the seven picks the Bengals made last weekend, but also about some of the underdogs they inked as college free agents.
In true Bengals fan fashion, some had their eye on what the AFC North rivals did over draft weekend as well. With their 14 picks over the three days, the Cleveland Browns attempted to overhaul their roster, with one selection made in the third round being of particular interest. It's a question worth asking, as the team hasn't found an answer at quarterback since the days of Bernie Kosar and they might be trying multiple options to see what's in their future. We'll start there this week.
@CJAnthonyCUI @CincyJungle actually not a bengals question but for you...thoughts on Kessler in the third?

— HI MY NAME IS JARED (@Irishfootball11) May 4, 2016
Truth be told, my Southern California biases made me like former USC quarterback Cody Kessler more than most other draftniks. In him, I actually see a lot of similarities to Andy Dalton, especially in what we've seen over the past couple of years, which plays right into the hands of new Browns head coach, Hue Jackson. After all, the former Bengals offensive coordinator oversaw a near-MVP season from Dalton just last season
A lot of scouts look at Kessler's measurables -- he's just 6'1", with a perceived average arm -- and think he has nothing more than pro backup potential. However, this is a guy who had a 67.5 completion percentage while starting for three years for the Trojans in the Pac-12. He remained productive throughout many head coaching changes, and still put up numbers as injuries to some of the surrounding offensive stars began to pile up around him.
Aside from the high career collegiate completion percentage, Kessler is a quarterback who rarely turns the ball over. With 88 passing touchdowns against just 19 interceptions, to go with a 156.4 collegiate passer rating, the Cleveland regime that is supposedly priding itself on an increased emphasis on sabermetrics seems to actually be a good fit for Kessler. And, if you're looking for the intangibles which most teams look for in a quarterback, he has a squeaky clean background while taking the hobbled Trojans on his shoulders since 2013.
Take a look at some of the anticipatory throws where Kessler "throws a receiver open", especially on the run (clips are courtesy of USA Today's Draft Wire and DraftBreakdown):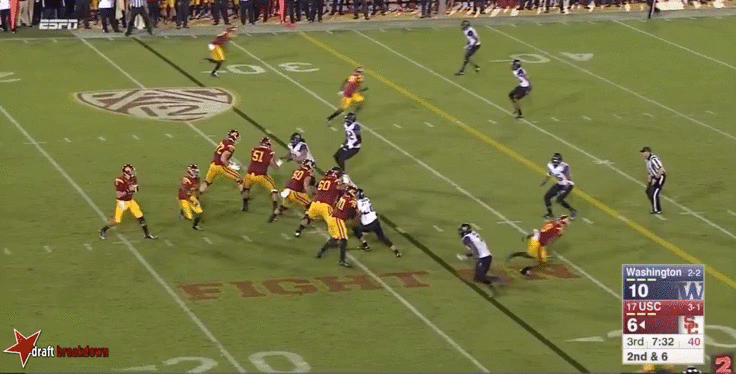 Like Dalton, Kessler isn't known as "a scrambler" or "fast", but he can navigate the pocket and make plays off of bootlegs. The "read option" was a play Jackson employed often in the Bengals' offense last year, as Dalton run with the football 57 times and had three scores on the ground. Rushing yards, touchdowns and attempts likely would have been career-bests had he not been injured the final three games of the regular season.
Look, there are things to not like about the kid as a pro prospect, too. For a guy who averaged over 29 touchdowns against about six interceptions per year at USC, there are spurts of questionable throws. Take a look at this relatively poor throw off of play-action with great protection against an always-stout Stanford defense. To use a baseball reference, it's almost as if he aims throws rather than truly throwing them, looking like a cautious passer.
It's pretty obvious Jackson took a page out of the Bengals' blueprint with his 2016 signal-caller situation. With Griffin's injury history and previous style of play without regard to his body, an able backup for Jackson's system was needed. Though some might not love all of Kessler's tape, he could be a solid NFL torch-carrier when called upon.
Many think Kessler was a reach by the Browns in the third round and that might be true. But the productivity, accuracy and personal makeup of Kessler makes me a fan, even if he is suiting up for one of the Bengals' biggest rivals. And while Cleveland's quarterback situation has been a shambles since before their 1999 reincarnation as an NFL franchise, Jackson and his new front office crew might be on to something with the additions of RG3 and Kessler.
@CJAnthonyCUI @CincyJungle what ufa do u think has a legit chance to make the team

—

Bryan Scott

(@bryan7673) May 4, 2016
Unlike other undrafted free agent classes in recent Bengals history, this one doesn't have the stars embedded in it like the Vontaze Burfict class of 2012. However, there are a small handful of players I see as potential dark horses to make the final 53-man roster in September.
Although quarterback is set, I really like what I've seen on tape and in the stat sheet from Bowling Green State University's Matt Johnson. Last season for the Falcons, Johnson threw for 4,946 yards 46 touchdowns and just eight interceptions. He definitely won't be gunning for a starting gig with Dalton locked in, but he'll compete for a backup spot.
Sure, AJ McCarron is set to be the backup and the Bengals have said they won't trade him, but who knows just how desperate teams will get as training camp and/or preseason injuries occur? If Johnson can exude similar qualities to McCarron and Dalton, he might stick around. Still, probably a longshot here.
Though the defensive line seems to be one of the team's deepest positions, there might be other opportunities available to some of these UDFA's who flash in the preseason. While the starting defensive end positions are locked down with Carlos Dunlap and Michael Johnson, a rotational spot could be open on the line with Wallace Gilberry's departure and the underwhelming performances of Will Clarke and Margus Hunt.
David Dean of Virginia is a defensive tackle of the small-ish mold, who could provide pressure and penetration from the interior or exterior of the line, depending on the defensive package. The Bengals like the versatile players on defense, as evidenced by their adding of Marcus Hardison and DeShawn Williams last year. Dean had 4.5 sacks for the Cavaliers last year, along with eight tackles for loss.
Ryan Brown of Mississippi State is another guy who intrigues me. As my CJ colleague muertasdetenas pointed out, defensive end might need some help at the back end of the positional depth chart and Brown could provide it. At 6'6" and 265 pounds, Brown has the size to go along with steady productivity with the Bulldogs over the past couple of seasons. His six sacks over the past two years doesn't necessarily present the next Dwight Freeney, but he might be a late-bloomer who could really flourish with surrounding talent.
It's going to be tougher than usual for one of these undrafted rookies to make the 2016 Bengals, but every year someone begins to surprise the fan base. Last year it was Jake Kumerow and Clemson's Williams who impressed in camp and stuck on the Practice Squad. This year, it might be one of these three who do the same or sneak on to the final roster.